​​

Self Direct Trading performance
Updated October 5th 2022
Robinhood Earning calls in Q1 And Q2 reporting trading losses of 10B(-10%) in Q1 and 34B(-38%) in Q2 over 93B AUM (ref.)
| | | | | | | |
| --- | --- | --- | --- | --- | --- | --- |
| (IN BILLIONS) | Q1 2021 | Q2 2021 | Q3 2021 | Q4 2021 | Q1 2022 | Q2 2022 |
| Beginning balance | 63 | 80.9 | 102 | 95.4 | 98 | 93.1 |
| Net deposits | 10.6 | 9.9 | 2.2 | 4.4 | 5.7 | 5.2 |
| Net market gains or losses | 7.3 | 11.2 | -8.8 | -1.8 | -10.6 | -34.1 |
| Ending balance | 80.9 | 102 | 95.4 | 98 | 93.1 | 64.2 |
Coinbase reporting Trading losses of about 63% (-160B) in Q2 over 256B AUM (down to 96B) (ref.1 ref.2 )
| | | | | | |
| --- | --- | --- | --- | --- | --- |
| Asset on platform ($B) | Q2 2021 | Q3 2021 | Q4 2021 | Q1 2022 | Q2 2022 |
| Retail | 88 | 116 | 141 | 123 | 47 |
| Institutional | 92 | 139 | 137 | 134 | 49 |
| Total | 180 | 255 | 278 | 256 | 96 |
S
tats on number of users that are losing money
Over 70% of retail traders are losing money:
more than a bank teller.»
Stats on number of traders worldwide
The number of traders is rising:
Traders are unhappy with their platform
:
ALL EUROPEAN BROKERS REPORTING
The brokers operating in the EU (104 of them at the moment) have now to report quarterly how many users make or lose money when trading CFD.
Definition of CFD (ref.):
Contracts for differences (CFDs) are contracts between investors and financial institutions in which investors take a position on the future value of an asset. The difference between the open and closing trade prices are cash-settled. There is no physical delivery of goods or securities; a client and the broker exchange the difference in the initial price of the trade and its value when the trade is unwound or reversed.
The CFD definition includes:
and anything that has an expiration date or leverage effect.
---
Profitable and losing Clients percentage. Reported quarterly by the broker by law in the EU. Data from Q1 2021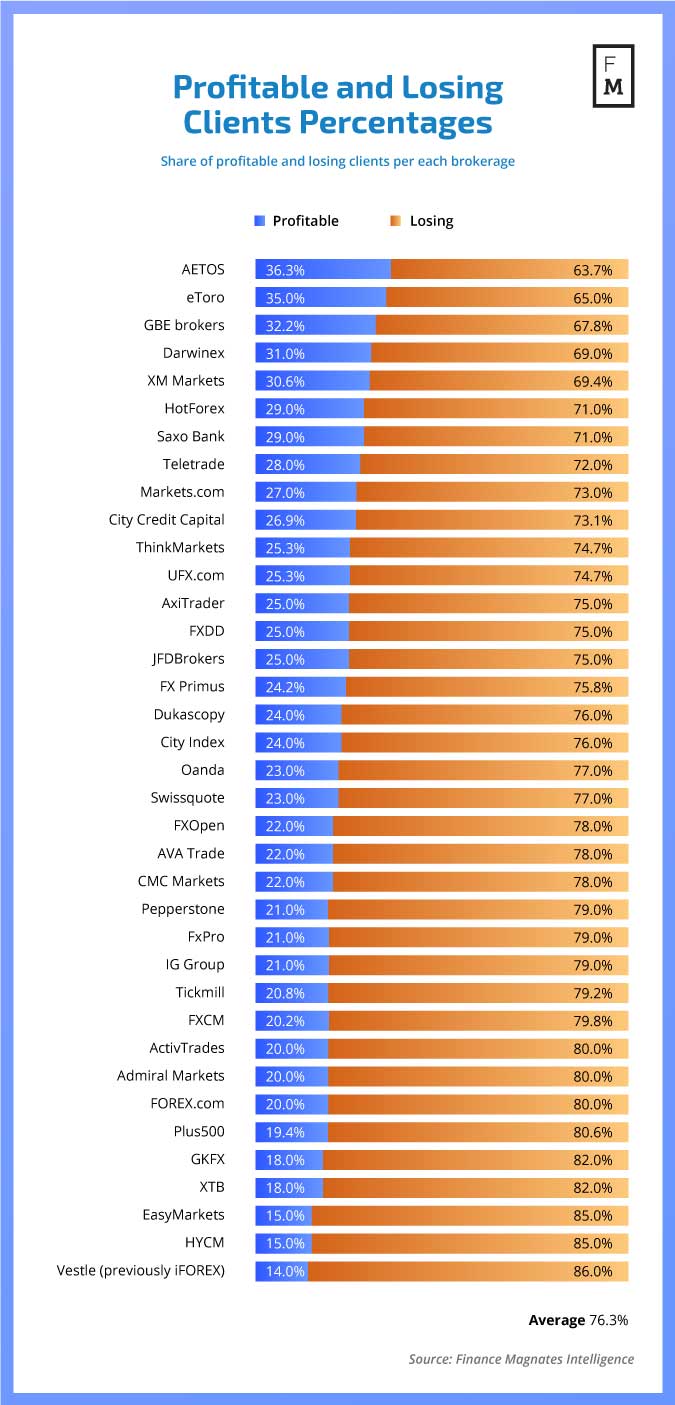 ---
Percentage of users that lose money divided by Broker. Data provided by law in the EU, by the broker. All 104 broker reporting. Data at Q3 2020
​​
| | | |
| --- | --- | --- |
| | Average | 79% |
| | | |
| | Forex Broker | Percentage |
| | Blackwell Global | 55% |
| | FXOpen | 60% |
| | FXCC | 66% |
| | ATFX | 67% |
| | NordFX | 67% |
| | Trade360 | 68% |
| | Core Spreads | 70% |
| | | 70% |
| | FOREX.com | 72% |
| | Arum Capital | 73% |
| | FxNet | 73% |
| | IronFX | 73% |
| | Score Priority | 73% |
| | | 74% |
| | Oanda | 74% |
| | TeleTrade | 74% |
| | CIM Bank | 75% |
| | easyMarkets | 75% |
| | | 75% |
| | FXDD | 75% |
| | FxGrow | 75% |
| | ActivTrades | 76% |
| | ETX Capital | 76% |
| | eXcentral | 76% |
| | FP Markets | 76% |
| | FxPro | 76% |
| | IG Markets | 76% |
| | INGOT | 76% |
| | Interactive Brokers Group, Inc. | 76% |
| | MultiBank | 76% |
| | OctaFX | 76% |
| | UFXMarkets | 76% |
| | Windsor Brokers | 76% |
| | Alpari | 77% |
| | Dukascopy | 77% |
| | Fort Financial Services | 77% |
| | EverFX | 78% |
| | Noble Trading | 78% |
| | NPBFX | 78% |
| | Varengold | 78% |
| | AccentForex | 79% |
| | Admiral Markets | 79% |
| | Askobid | 79% |
| | AvaTrade | 79% |
| | CMC Markets | 79% |
| | DF Markets | 79% |
| | | 79% |
| | Finexo | 79% |
| | FreshForex | 79% |
| | FXCM | 79% |
| | | 79% |
| | Markets.com | 79% |
| | Orbex | 79% |
| | Pepperstone | 79% |
| | PrimeXBT | 79% |
| | Saxo Bank | 79% |
| | Swissquote Bank | 79% |
| | TusarFX | 79% |
| | Vantage FX | 79% |
| | | 79% |
| | DIF Broker | 80% |
| | Eightcap | 80% |
| | FXFlat | 80% |
| | | 80% |
| | LCG | 80% |
| | Trading.com | 80% |
| | XTB | 80% |
| | ATC Brokers | 81% |
| | ETFinance | 81% |
| | Forex4you | 81% |
| | GKFX | 81% |
| | HYCM | 81% |
| | InstaForex | 81% |
| | Investous | 81% |
| | Plus500 | 81% |
| | CMSTrader | 82% |
| | CPT Markets UK | 82% |
| | FIBO Group | 82% |
| | GO Markets | 82% |
| | HugosWay | 82% |
| | JustForex | 82% |
| | 24option | 83% |
| | ADS Securities | 83% |
| | | 83% |
| | Libertex | 83% |
| | Olymp Trade | 83% |
| | Stratton Markets | 83% |
| | Fidelis | 84% |
| | FxGlory | 85% |
| | IFC Markets | 85% |
| | AMarkets | 86% |
| | Hantec Markets | 86% |
| | LiteForex | 86% |
| | ROinvesting | 86% |
| | FX Giants | 87% |
| | Marketiva | 87% |
| | Colmex Pro | 88% |
| | FinFX PRO | 88% |
| | Grand Capital | 88% |
| | LegacyFX | 88% |
| | RoboForex | 88% |
| | 4xCube | 89% |
| | Tradeview Forex | 89% |
| | USG | 90% |